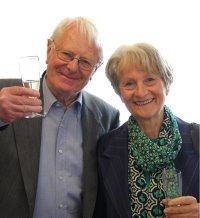 ...my (more or less) private or professional corner...
Born in 1935 in Elbing (now Elblag, Poland), grown up and school education in Nienburg (North Germany).
Studies of Psychology, English and German literature. Qualified text and photo editor, free-lance science journalist, in the sixtees book editor for Umschau Verlag (with a focus on art and illustrated books), later book editor for Suhrkamp Verlag (special aspects of literature, psychology, natural and social sciences), book translator (H. Alfvén, E. C. M. Frijling-Schreuder, R. D. Laing, A. Prokopiou, and others). Lectureships in adult education institutions. Since 1972 director of examinations and publishing at a Frankfurt scientific institute for adult education, offering programmed examinations in the modern languages and sciences throughout Europe. German representative in European organisations for further-education testing (languages and informatics). Retired since 1998.
Numerous publications. Recent ones: Hallstatt (2016), St. Bartholomä am Königssee (2016), Leben ist nicht genug, sagte der Schmetterling (2017), Goldene Ramsau (2018), Da mach ich mir ein Bild (2019), HerbstLicht (2019), Blüten zum Träumen (DVD, 2020), Auf der Suche nach der verlorenen Stille (2020), Monochrome Momente (2021).
Married to Inge Teichmann (picture above), scientific translator and editor, since 1964; 2 children, 4 grandchildren.
Hobbies: amateur radio (since 1954) - photography (with a focus on nature, art, architecture, landscape, portrait, abstract, and experimental photography) - flower, rock and water gardening, garden design - cats and tortoises.
What I like beside my hobbies: my Family, lifelong learning, islands, the Alps, classical music and traditional jazz, hiking, all facets of nature, the nearby Odenwald, good but not-too-dry wines, vineyards (all seasons), Bavarian food and the people making and eating it, neigbours with a soft spot for antenna aesthetics, dreaming on the sunny bench in my garden with a glass of Rosé or Riesling, my roses, my azaleas, my hemerocallises, nearly all other flowers, the purr of a cat, the croaking of frogs in the garden pond... briefly: (nearly) everything...
What I really dislike: making war without being attacked, propaganda and advertising, pseudo-learned politicians (they are the most terrible pest of our time...), Nazis and other brainless frogs without wigs, economical globalisation and capitalists without social conscience (who treat humans even worse than other "raw materials"), all sorts of capital investors, the malicious system of "political correctness" (which is neither "political" nor "correct", but just a dirty synonym or a duplicitous euphemism for insincerity, ignoring the truth, and a cloak for constant lying. "Conciousness imperialism", "domestication of one's conscience", "passepartout justification", as Martin Walser said in his famous 2011 Harvard speech.